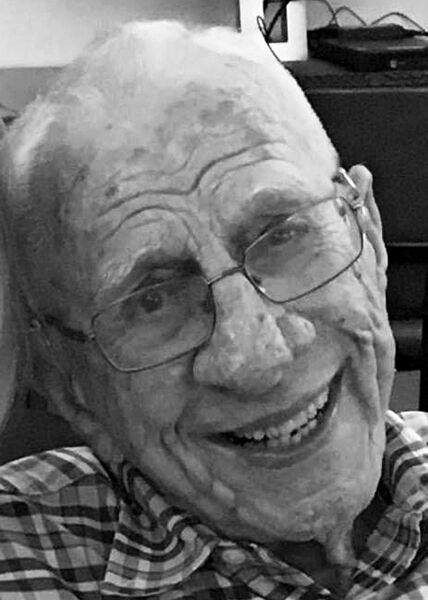 Reverend Walter Leonard Otto Lentz went to his final home on March 9, 2021. He was 99 years old, born August 10, 1921. 
Walter is preceded in death by his wife of 60 years, Melba Lorene (Bremer) and infant son, Mark Lentz.
He was born in Lanham, Kansas on August 10, 1921 to Rudolph and Louisa Lentz. He was the last of 9 children. His siblings who preceded him in death: Adolph, Rudolph, and Gotthold Lentz and sisters, Mechtilda Rowoldt, Ruth Cavitt, Esther Oelke, Louise Hohn and Maggie Lentz.
Walter was ordained on January 29, 1945 in San Antonio, TX at St. Lukes Lutheran Church. His service to the ministry began in Victoria, TX. Over the years he pastored churches in Port Lavaca, TX, Tivoli, TX, Corpus Christi, TX, Snyder, TX, Auburn, NB, Great Bend, KS, Pottsville, TX, Shive, TX and retired from full time pastoring in Gonzales, TX.  Also, he assisted as a visiting pastor for Denhawkin, TX and helped to cultivate a Lutheran church in Luling, TX.
Walter married Melba Lorene (Bremer) on July 8, 1957 at St. Paul Lutheran Church in Tynan, TX. They are survived by their son, Luther Lentz and wife Alice and great grandson Abel of San Marcos. Claire Gregory and husband Don and their children Taylor wife Maci, of Odessa, TX, Morgan of McKinney, TX, Austin of Lubbock, TX. Daughter, Crystal Lentz of Longview, TX. Youngest son, Paul Lentz and wife Donna of Garland, TX and their children Mariah of Austin,TX, Kendall and Natalie of Garland, TX. 
He was a people person and the oldest fan to his alma mater, Texas Lutheran University in Seguin. He and Melba liked to volunteer in their early years as pastor and camp nurse at Lutheran Children's Camps. As the family grew they took them camping and later in their marriage enjoyed RVing. 
Walter enjoyed playing the piano, guitar and harmonica. He enjoyed entertaining at the TLU coffee house for the students. He participated in Lions Club, Habitat for Humanity and was a long time member of the Hill Country Barber Shop Chorus. He played tennis well into his 80's and participated in the tennis Senior Olympics. He was beloved by the TLU students and went to chapel daily to congregate with them. All in all, Walter was living life and made many friends along the way.
If you wish to make memorials, please make them to Texas Lutheran University, 1000 West Court Street, Seguin, TX 78155.  
The family plans to have a Memorial Service April 17th in Seguin, TX and will put an announcement in the paper and the church bulletin when the time is confirmed. 
We remember Rev. Lentz's family in our prayers and trust that the promise of the Resurrection is true and sure.
In Christ,
Bishop Sue Briner